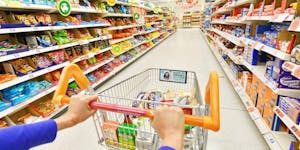 Dear friends,
antitrustitalia's 45th lunch talk is scheduled on Thursday, 17 May 2018, 12:30pm at Confindustria Bruxelles (Av. de la Joyeuse Entrée 1 – 1040 Brussels – Metro Schuman).
Dirk Middelschulte global general counsel competition at Unilever, and Annamaria Mangiaracina, partner at Linklaters, Brussels, will give a presentation in English on:
"Competition Policy and Consumer Goods – the Current Landscape"
Dirk and Annamaria will provide an overview of recent developments by the European Commission and NCAs in this complex industry, sharing some considerations on how the relevant EU competition rules on verticals, horizontals and also dominance are applied in the daily life of a global Fast Moving Consumer Goods company, with the guidance of the case law developed across Europe.
Dirk Middelschulte has worked in private practice and in-house notably in the areas of IP, competition law, regulatory, corporate governance and compliance. Corporate in-house counsel since 2006, he headed Deutsche Bahn group's antitrust advice & compliance team before joining Danone in Paris as corporate compliance director. Based in Brussels, he now has the global responsibility for competition law in Unilever.
Annamaria Mangiaracina is a partner at Linklaters, based in the firm's Brussels office. She represents clients in global investigations and transactions before the European Commission (EC), the Italian Antitrust Authority as well as regulatory authorities worldwide. She regularly counsels clients on abuse of dominance issues. Most recently she represented the immunity applicant in the Commission's investigation into automotive parts, ENI in its transaction with ExxonMobil relating to a major LNG project in Mozambique and Unilever in a number of different matters.
Lunch will be provided at 12:30, the presentation will begin at 13:00 and will close at 14:30.
Entrance is free for antitrustitalia supporters. For non-supporters, there will be a fee of €25 to cover the cost of the lunch. Please register via Eventbrite. Receipts can be printed from the link directly.
As space is limited, please let us know if you are unable to attend, so that we can offer your place to other colleagues. For non-supporters, cancellation should be notified 24 hours before the event; the fee will be refunded directly from the link above.